The combination of compounds with senolytic, antioxidant and anti-inflammatory effects helps slow aging and age-related diseases. It promotes cardiovascular health and contribute to weight control.
60 capsules (2-month supply)
1 capsule per day
With a meal
Made in Spain
Trans Resveratrol + Quercetin
SELECT YOUR FAVORITE OPTION:
The combination of compounds with senolytic, antioxidant and anti-inflammatory effects helps slow aging and age-related diseases. It promotes cardiovascular health and contribute to weight control.
60 capsules (2-month supply)
1 capsule per day
With a meal
Made in Spain
You might also like
Info
Ingredients
How to take it
Quality
FAQ
WHAT IS TRANS-RESVERATROL + QUERCETIN, AND WHY DO YOU NEED IT
What is it?
Resveratrol, a polyphenol, and quercetin, a flavonoid have an anti-aging effect through various mechanisms achieving an imitation of caloric restriction that counteracts age-related alterations. Moreover, both compounds show anti-inflammatory, cardio-protective, neuroprotective, and anti-obesity properties.

Where can I find them?
Both compounds are found naturally in the food we eat. Resveratrol is abundant in grape skin, berries, and seeds. Quercetin is commonly present in onions, citrus fruits, and parsley.

Why do I need it?
Although we can obtain these compounds through diet, we do not consume them in large enough quantities to benefit from their healthful effects.
TO WHOM IS IT ADDRESSED?
Adults with the following characteristics:
Want healthy aging.
Seek weight reduction.
BENEFITS OF RESVERATROL
CARDIOMETABOLIC & ANTIOXIDANT
Senolytic and antioxidant effect by promoting the destruction of senescent cells preventing diseases related to unhealthy cell reproduction.
ANTI-AGING & ANTI-INFLAMMATORY
It regulates cellular aging through the activation of sirtuins. It improves inflammatory response, fat metabolism, and circadian rhythm.
NEUROPROTECTIVE & WEIGHT LOSS
Resveratrol activates caloric restriction and helps delay age-related cognitive decline due to its antioxidant & anti-inflammatory activity.

Source: Tabrizi, R. et al. (2020) "The effects of resveratrol intake on weight loss: a systematic review and meta-analysis of randomized controlled trials," Critical reviews in food science and nutrition, 60(3), pp. 375–390.
Unfortunately, resveratrol exhibits low bioavailability and solubility. The use of liposomes, as an encapsulation system for resveratrol, together with the presence of quercetin increases its bioavailability. These are the effects of resveratrol on body composition in an average of 4 weeks.
LEARN ABOUT THE BENEFITS OF TRANS RESVERATROL + QUERCETIN OVER TIME
1 MONTH


It reduces inflammatory process.

Resveratrol inhibits inflammatory responses, quercetin suppresses pro-inflammatory compounds secretion, and vitamin C enhances anti-inflammatory effect. All this contributes to drop "inflammaging", age-related low-grade inflammation.

4 MONTHS


It improves cardiovascular health.

The imitation of caloric restriction and the antioxidant effect have beneficial effects on the cardiovascular system: it lowers blood pressure, triglycerides, LDL ("bad cholesterol") and increases HDL ("good cholesterol").

9 MONTHS


It improves metabolism.

Mimicking caloric restriction, thanks to resveratrol and other inducers, such as intermittent fasting may have beneficial effects on metabolism, insulin resistance, and weight reduction, especially in obese individuals.

1 YEAR


It ensures optimal maintenance

In your daily life, it helps you to cope with the main causes of aging. Quercetin has a senolytic action that promotes the destruction of senescent cells (autophagy), while Resveratrol activates sirtuins that regulate cellular aging.
PURE AND CONVENIENT IN ONE CAPSULE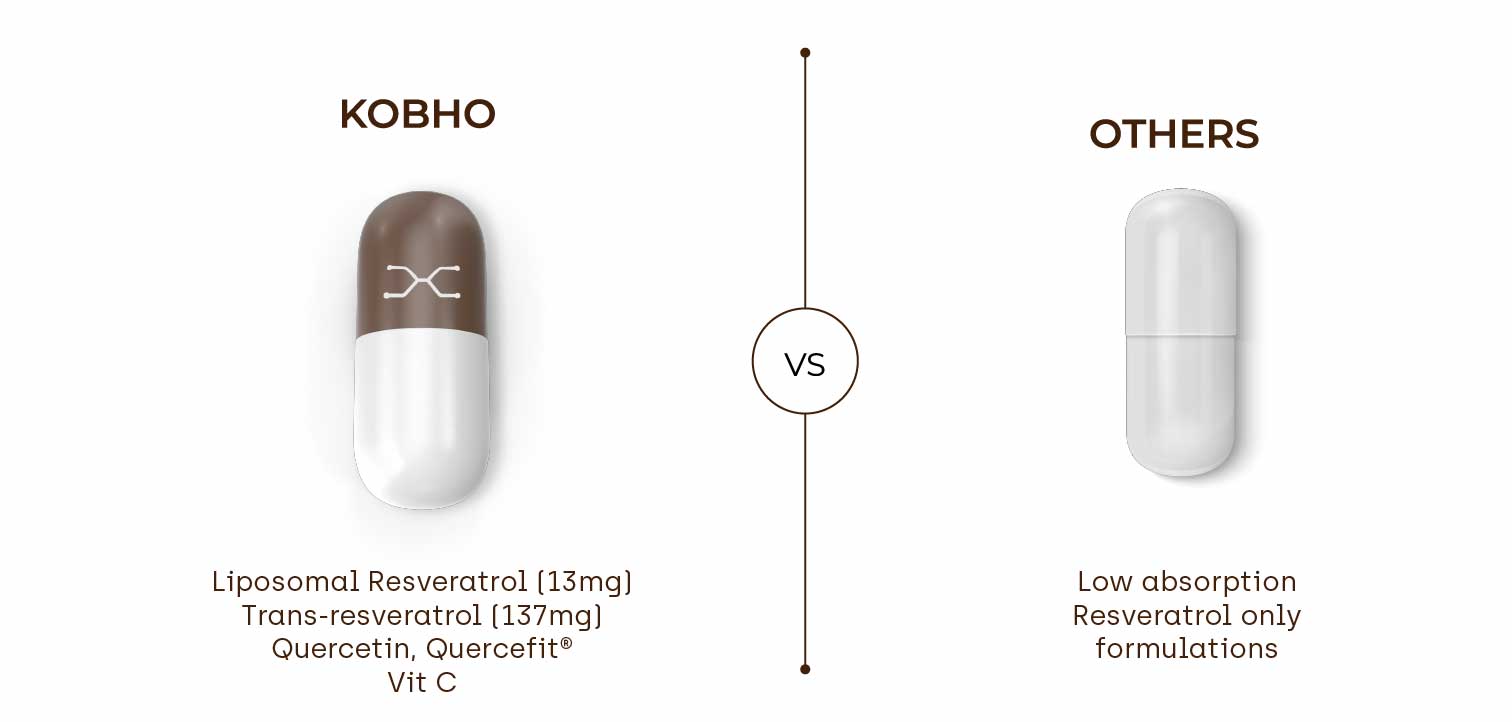 SCIENCE-BASED FORMULATIONS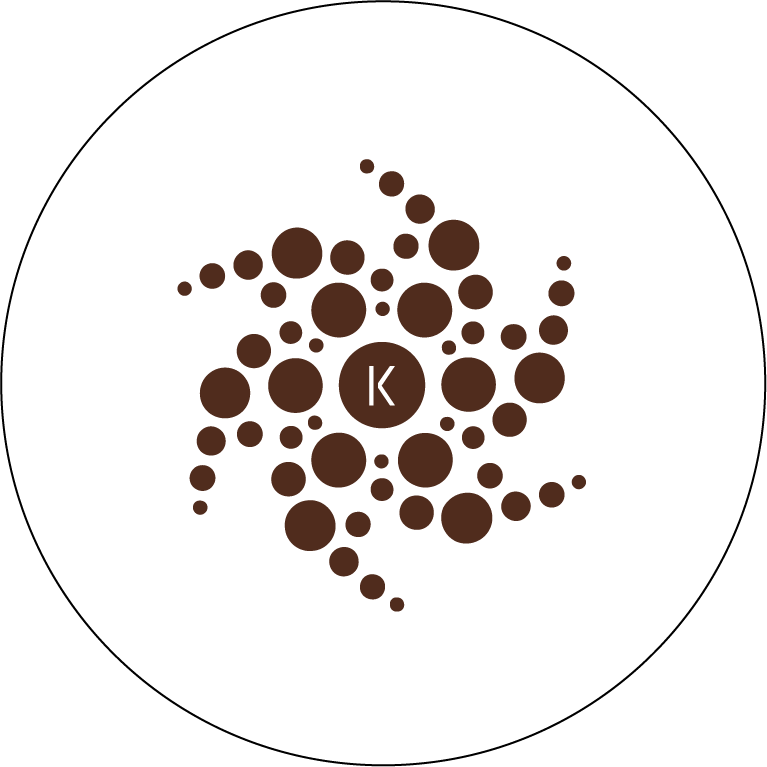 Synergistic Effect
Complete formula with synergistic effects that provides powerful anti-aging benefits through several mechanisms by promoting autophagy, reducing oxidative stress and inflammation, mimicking caloric restriction, and providing the necessary fuel for the cells.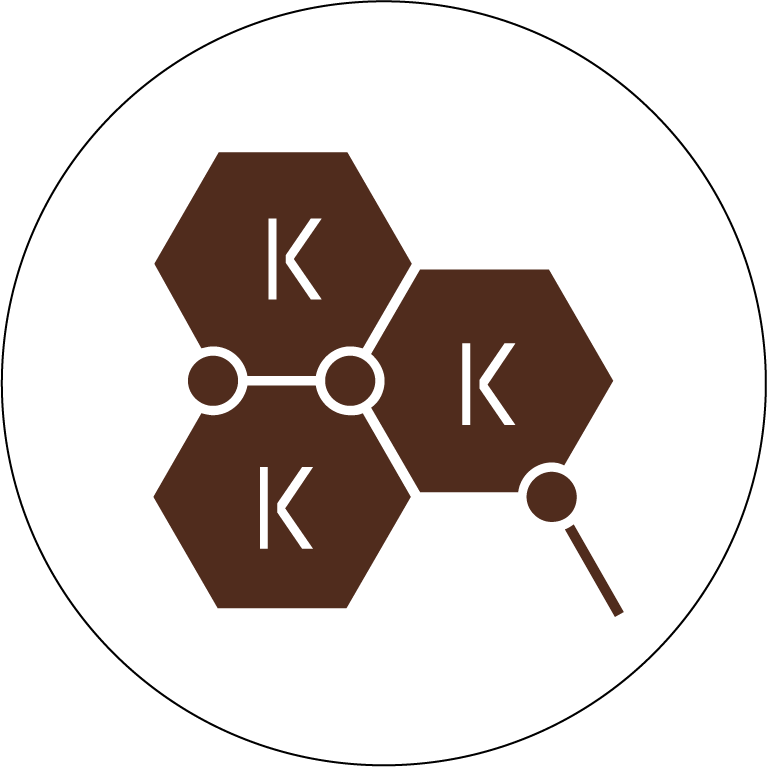 Maximum Bioavailability
The formulation of resveratrol in liposomes and quercetin in phytosomes solves the problems of low absorption and solubility of both compounds. This allows to increase the efficacy at lower doses, avoiding possible adverse effects of high doses that other companies face.
Maximum Purity and Quality
Our formula contains high purity extracts such as Polygonum cuspidatum root dry extract (95% trans-resveratrol) and Sophona japonica bud extract (98% quercetin).
INGREDIENTS
All Ingredients
Dried extract of Polygonum cuspidatum (Polygrum cuspidatum, root), glazing agent (hydroxypropyl methylcellulose), freeze dried liposomal resveratrol (inulin, trans-Resveratrol, emulsifier [lecithin (SOYA), trehalose, histidine], bulking agent (microcrystalline cellulose), Sophora japonica extract 20:1 (Styphnolobium japonicum (L.) Schott, inflorescences), L-ascorbic acid (vitamin C), Quercetin, emulsifier (lecithins) maltodextrin, anti-caking agent (silicon dioxide), nicotromide (niacin), anti-caking agents (magnesium, salts of fatty acids, silicon diacide). Trehalose is a source of glucose.
Trans - Resveratrol
Resveratrol is a polyphenol naturally found in the skin of grapes and blueberries, among others. It has a powerful antioxidant and anti-inflammatory effect, providing anti-aging benefits by several mechanisms. In addition, it also provides energy, reduces appetite, helps to lose weight, and provides great cardiovascular benefits.
Quercetin (Quercefit®)
It is a flavonoid present in fruits and vegetables, such as onions. It is known as an antioxidant, anti-inflammatory, cardio-protective, and anti-obesity compound. Moreover, it is a compound that provides a great help in cellular senescence, a cause of aging.
Vitamin C
It is a vitamin with important functions. On the one hand, it has anti-inflammatory benefits when combined with curcumin, since they act synergistically on the immune system and improve the endothelial function of blood vessels, which reduces cardiovascular risk. On the other hand, it complements and enhances the antioxidant activity and improves the function of other ingredients, such as alpha-lipoic acid or collagen.
Nicotinamide (Vitamin B3)
Nicotinamide or vitamin B3 is a precursor of NAD+, essential cellular fuel in our cells. Supplementation is crucial as B3 levels decrease with age.
ALLERGEN LIST
WARNINGS
Food supplements should not be used as a substitute for a varied and balanced diet and a healthy lifestyle. Do not exceed the stated recommended daily dose. Keep out of reach of young children. Not recommended for children under 12 years of age, or pregnant and breastfeeding women. Store in a cool dry place.
Eat a healthy, balanced diet.
Keep moving.
Get enough sleep.
Manage stress.
Quit smoking.
Anticipate with the help of supplements.
BEST QUALITY STANDARDS, VEGAN AND TOXIC FREE
FREQUENTLY ASKED QUESTIONS
How do I know if I need Trans Resveratrol + Quercetin supplement?
As we age, "inflammaging" - age-related inflammation - becomes more prevalent. This is a chronic and low-grade inflammation that does not manifest itself with short-term symptoms, but contributes to age-related problems. Including this supplement in your diet helps to slow down aging.
Why is Kobho's supplement is better than others?
Our formula combines the most powerful ingredients for combating aging and imitation caloric restriction. Considering low absorption of natural resveratrol and quercetin, we use encapsulation in liposomes and phytosomies to optimize their bioavailability.
Why is not good nutrition enough?
Resveratrol and quercetin can be found in many plant foods, like grapes, onions, and apples, but the amount of them that reaches our body is very low. Thus, we should intake high amounts of these foods, which is very difficult to benefit from these properties.
Why should I consume it every day?
Aging is associated with many different diseases that diminish our quality of life. Anticipating and starting to take care of yourself before these symptoms appear will help you to age in a slow and healthier way.
Customer Reviews
01/10/2023
Eduardo

Spain
Antioxidante y Restrictor calórico
En 2023 me he propuesto empezar a cuidarme. A mis 36 años necesito perder peso y cuidar mi envejecimiento a nivel interno. Todavía es pronto para notar sus efectos pero esta fórmula de Kobho parece que va a ser mi aliado perfecto. Seguiré informando!
01/17/2023
mark

Spain
Formulation!!
perfect combination of liposomed resveratrol and quercetin. Delivery on time
02/06/2023
Daniela

Spain
Energy level boost
Since I started taking the product I have noticed an increase in my energy levels. I have more performance in my workouts at the gym.
02/06/2023
Gerardo C.

Spain
Calidad TOP a buenos precios
Compré el resveratrol porque es de los pocos del mercado que utiliza compuestos liposomados, además a precios competitivos!
Gracias Gerardo por tu confianza, quedamos a tu disposición.
02/07/2023
Emre C.

Spain
Antioxidante único
Hasta ahora el resveratrol me sentaba mal, mi médico me dijo que probara marcas que lo vendieran con grasas o liposomas y desde que tomo este me encuentro mucho mejor y no me sienta mal.