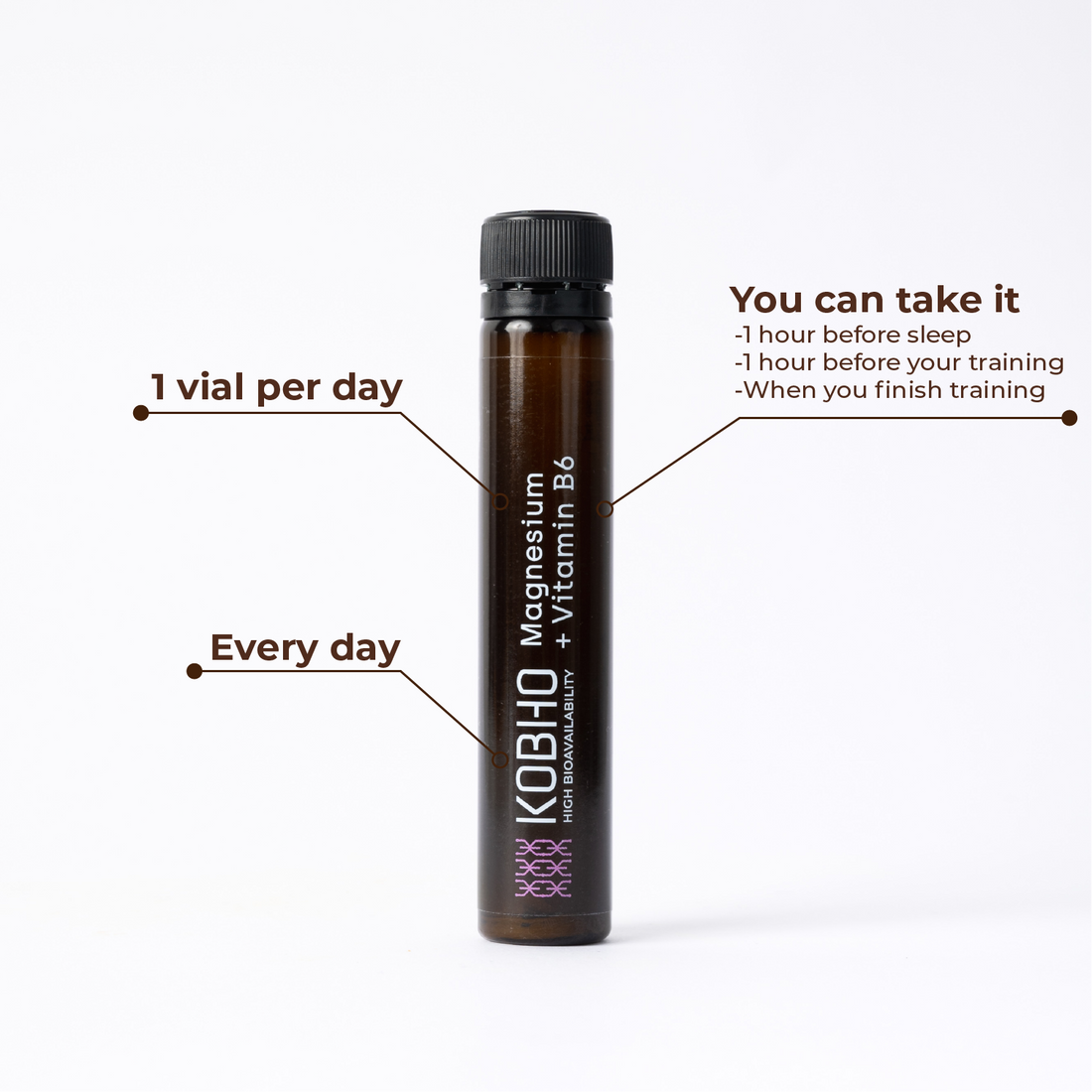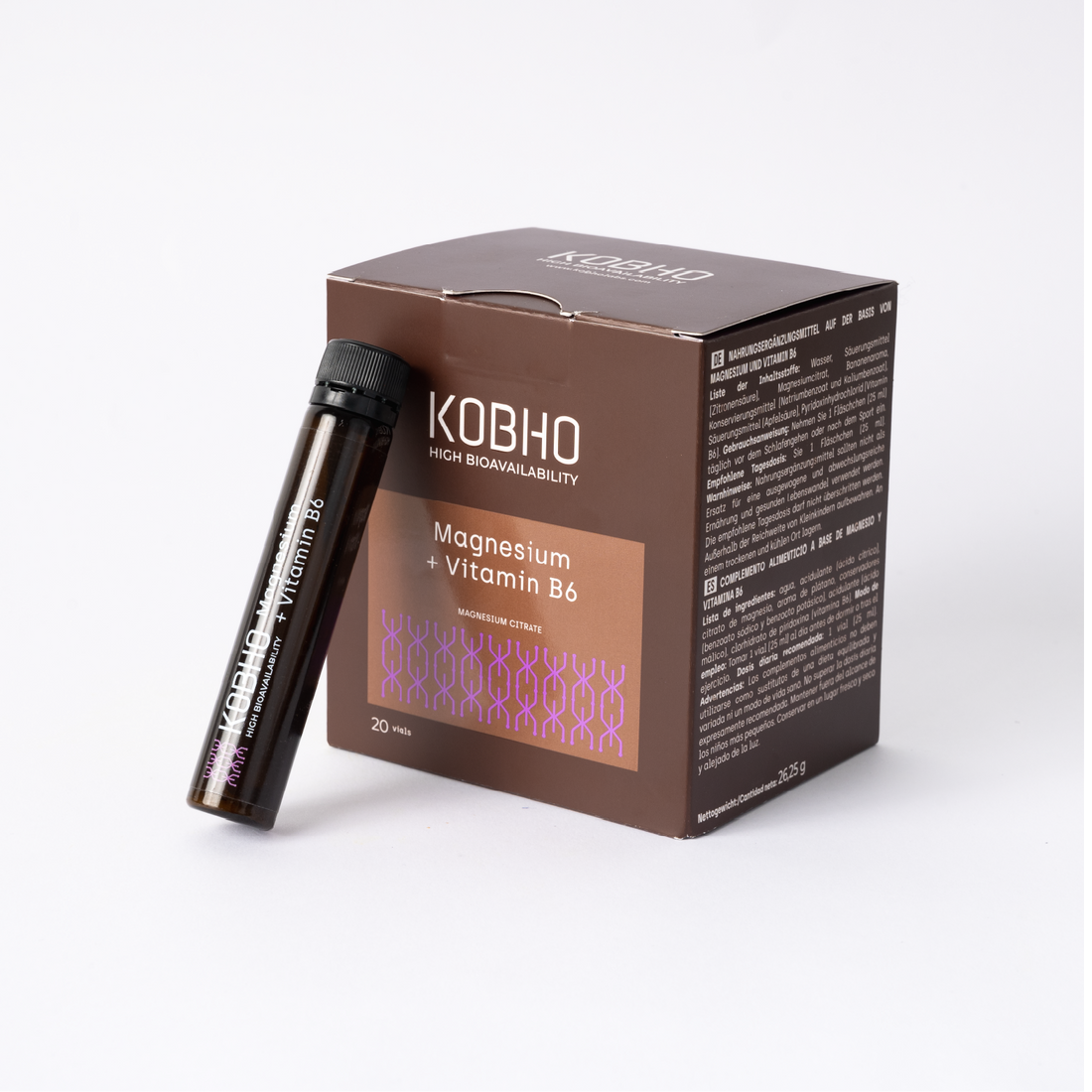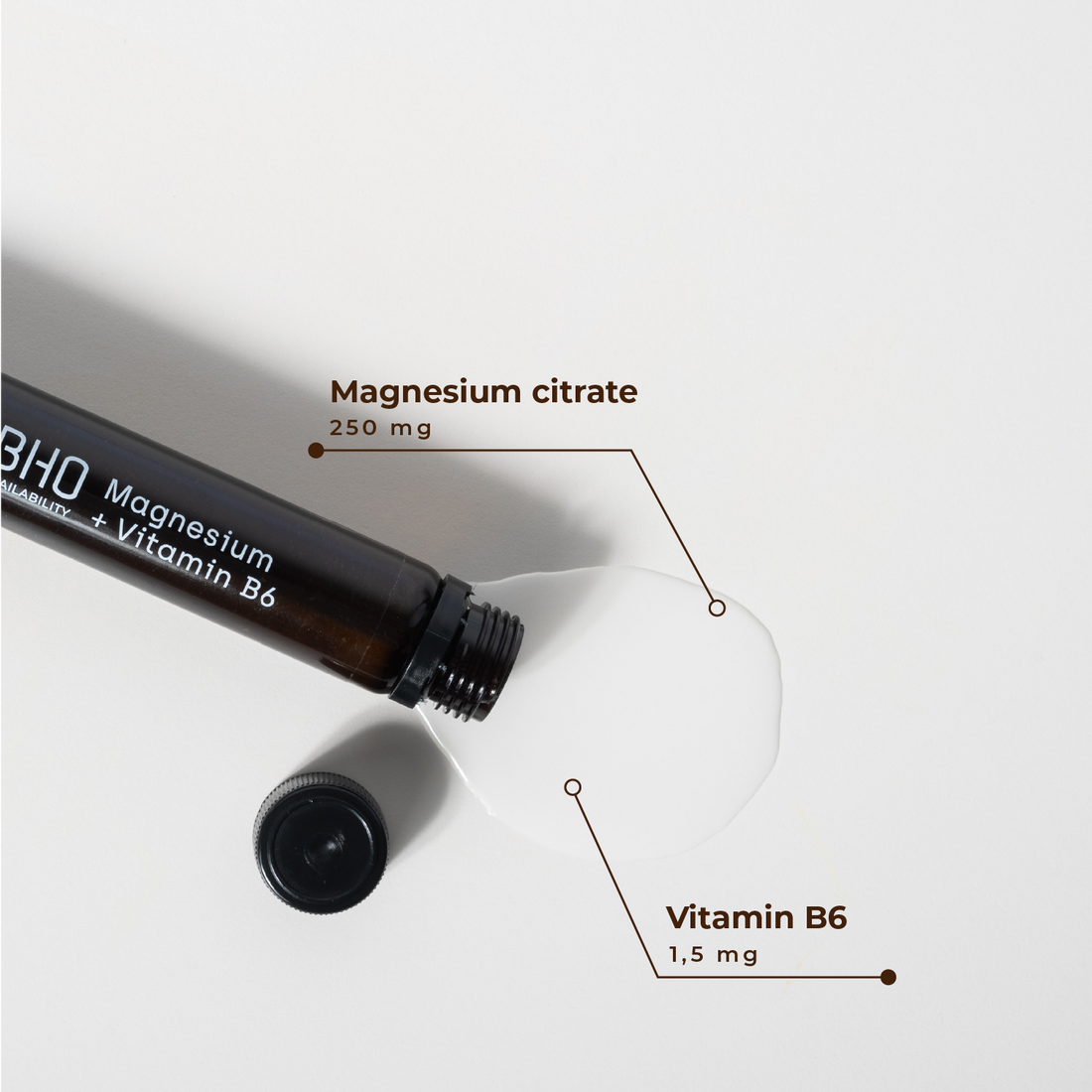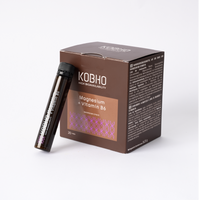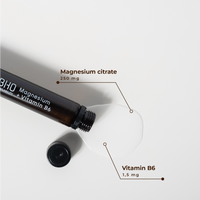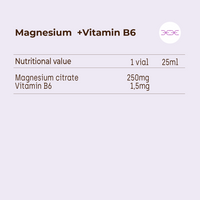 The combination of magnesium and vitamin B6 gives you an energy boost to fight tiredness and fatigue in your daily life, while improving your mental and physical performance. The key to your overall well-being.
20 vials (20-day supply)
1 vial per day
1 hour before sleep
Made in Spain
SELECT YOUR FAVORITE OPTION:
The combination of magnesium and vitamin B6 gives you an energy boost to fight tiredness and fatigue in your daily life, while improving your mental and physical performance. The key to your overall well-being.
20 vials (20-day supply)
1 vial per day
1 hour before sleep
Made in Spain
You might also like
Info
Ingredients
How to take it
Quality
FAQ
WHAT IS MAGNESIUM + B6, AND WHY DO YOU NEED IT?
What is it?
Magnesium is an essential mineral for humans, as is part of every organ in the body, especially the heart, muscles, and kidneys. It is a co-factor of numerous metabolic pathways involved in muscular, neurological, and hormonal functions. Vitamin B6 (pyridoxine), as a co-factor too is involved in carbohydrates, lipid, and amino acid metabolism.

Where can I find them?
Both of them can only be obtained from diet. Magnesium sources are almonds, peanuts, legumes, spinach, whole wheat bread, etc., while vitamin B6 sources are milk, fatty fish, eggs, beef, carrots, citrus fruits, etc.

Why do I need it?
Because neither magnesium nor vitamin B6 can be made by the human body, their support depends only on diet. Imbalance diets leads to deficiencies in these micronutrients, contributing to various health conditions, such as cardiovascular diseases and metabolic syndrome. In addition, during exercise, magnesium is lost through sweat, so it is important to replenish them.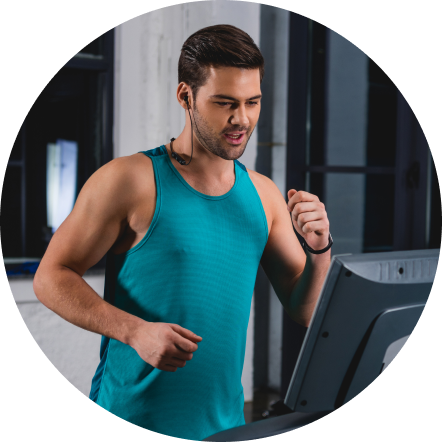 TO WHOM IS IT ADDRESSED?
Adults with the following characteristics:
Athletes
Muscle cramps and pain
Physical and emotional stress
Students during exams
Constipation
BENEFITS OF MAGNESIUM
NEUROLOGIC & SLEEP
It supports psychological function by improving concentration and memory, and decreasing stress. It also supports better sleep quality.
ANTI-AGING & CARDIOPROTECTIVE
It supports the nervous system, reduces tiredness and fatigue. It also supports good muscle and bone function, and normal energy metabolism.
DIGESTIVE & MICROCHONDRIAL
It is required to increase the number of cellular mitochondria, and improve the mitochondrial function efficiency. It also helps with constipation.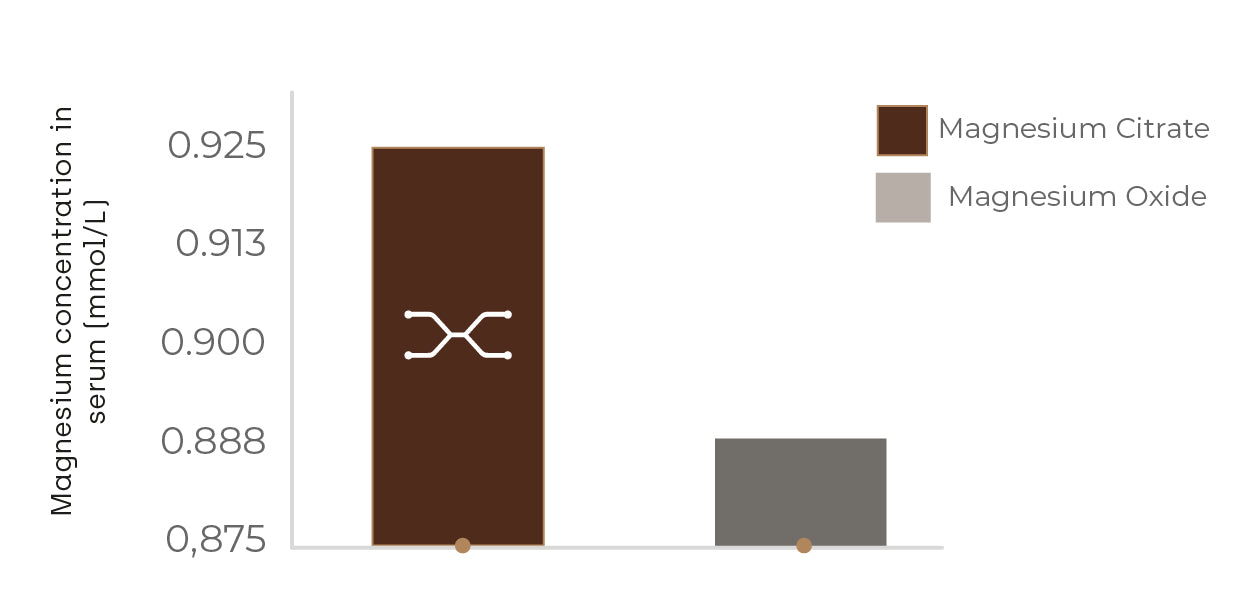 Source: Kappeler, D. et al. (2017) "Higher bioavailability of magnesium citrate as compared to magnesium oxide shown by evaluation of urinary excretion and serum levels after single-dose administration in a randomized cross-over study," BMC nutrition, 3(1).
We have selected the most bioavailable magnesium form, magnesium citrate, and combining with vitamin B6 to increase the absorption and use of magnesium in the cells. In addition, vial format optimizes magnesium absorption, maximizing it bioavailability.
LEARN ABOUT THE BENEFITS OF MAGNESIUM + B6 OVER TIME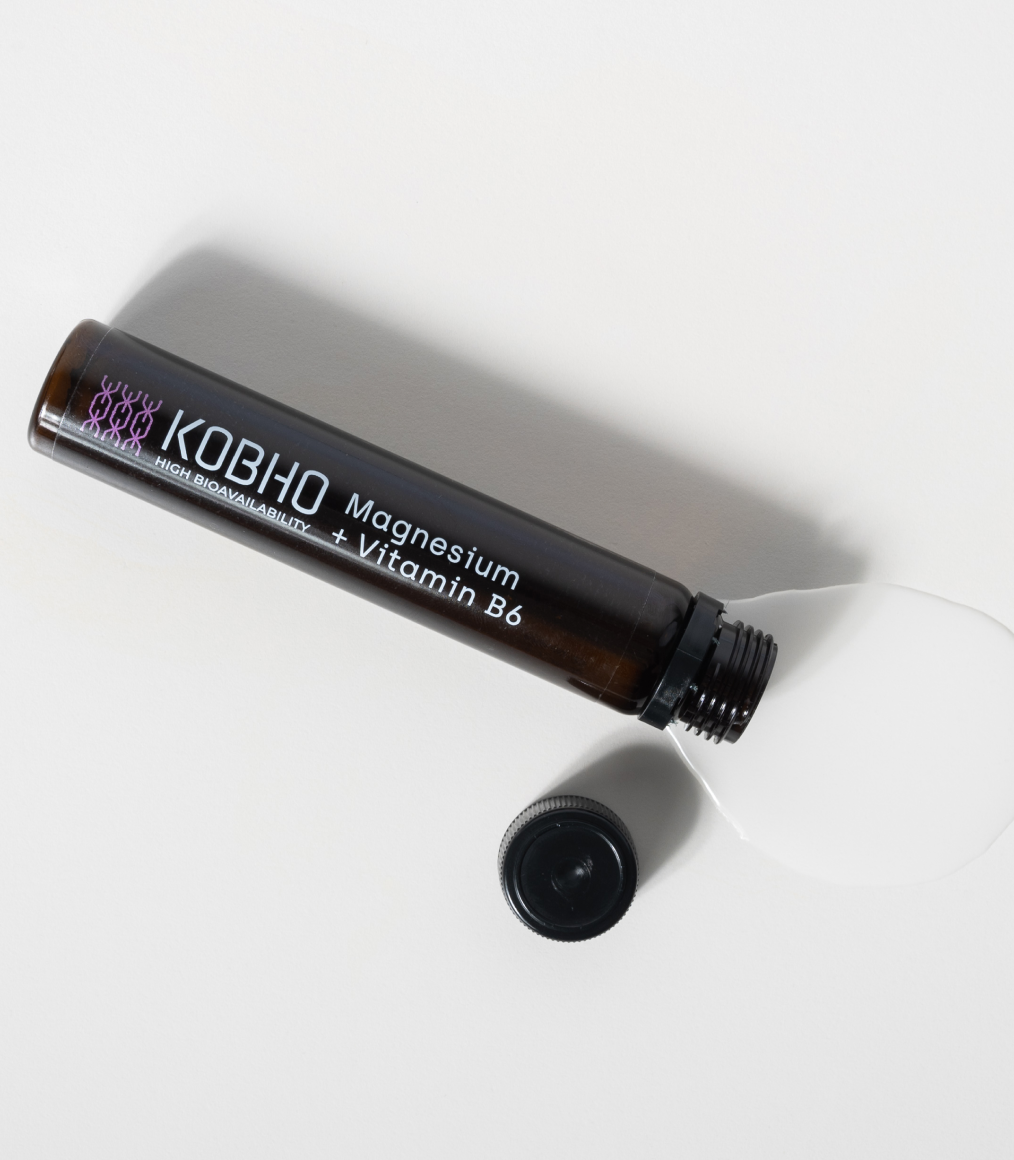 1 MONTH


It restores energy levels.

Magnesium and vitamin B6 take part in energy metabolism and cognitive function. As soon as their levels begin to be restored, you will notice an improvement in your tiredness, fatigue, and mood.

2 MONTHS


It improves cognitive functions.

The intake of magnesium with vitamin B6 supplementation reduces stress, and improves concentration and memory. By promoting your mental health, you are supporting your overall wellbeing.

3 MONTHS


It improves physical performance.

Magnesium is critical to normal muscle function. It improves physical performance by increasing glucose availability in the blood muscle and brain. In addition, it delays and reduces the accumulation of lactate in the muscle reducing soreness.

1 YEAR


It improves heart and bone health.

Magnesium strengthens bones by stimulating the function of osteoblasts, and taking part in the transport of calcium to the bones. In addition, it improves cardiovascular health by regulating heart rate.
PURE AND CONVENIENT IN A SINGLE VIAL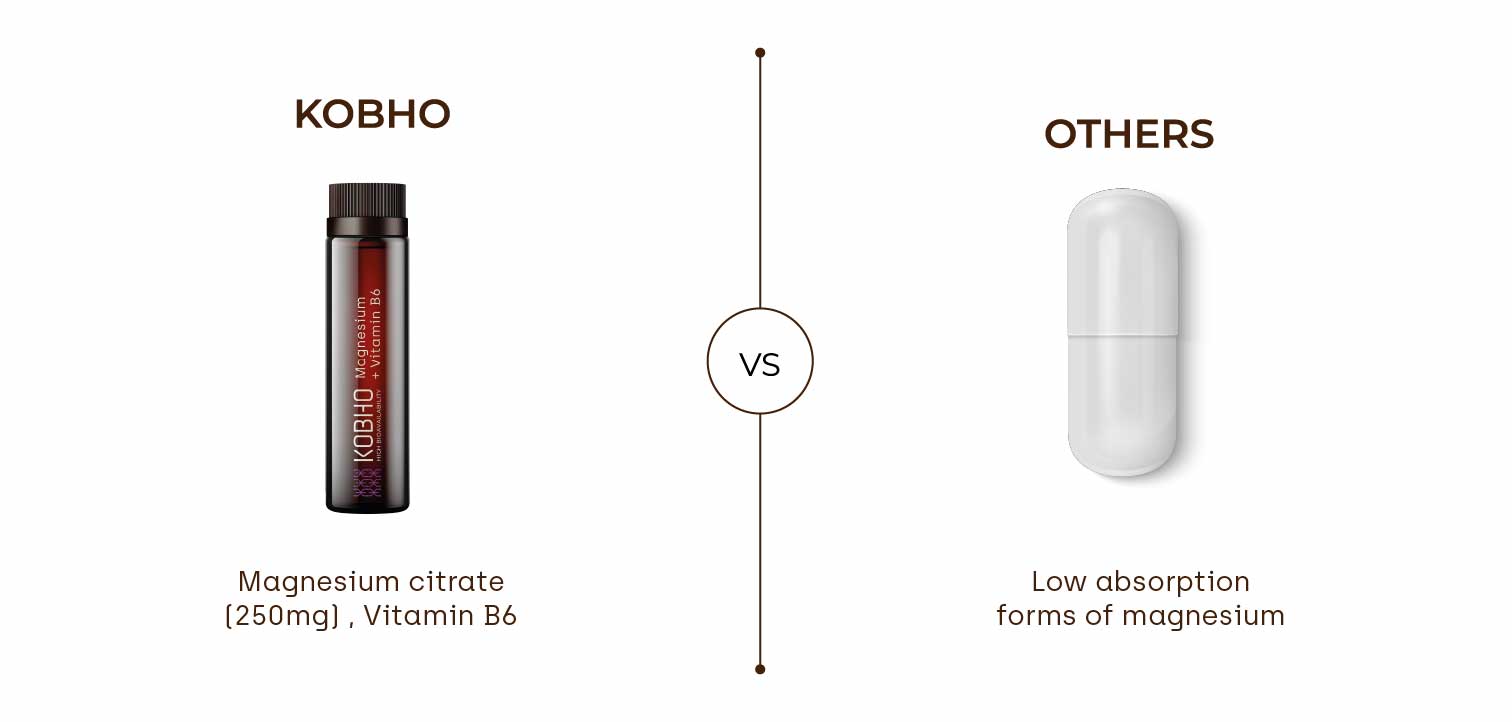 SCIENCE-BASED FORMULATIONS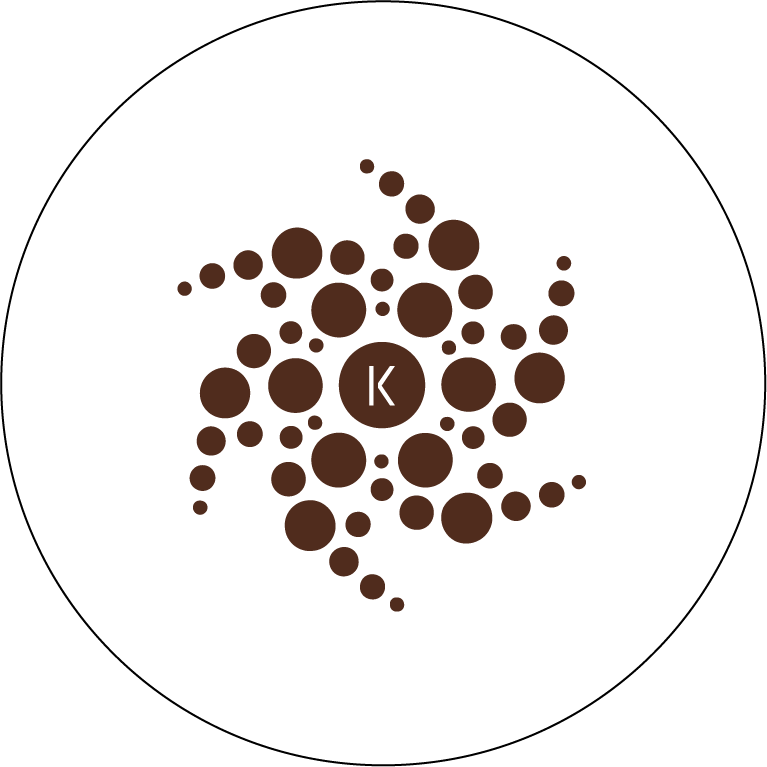 Synergistic Effect
Besides enhancing the effects of magnesium, Vitamin B6 acts in synergy with it contributing to energy metabolism and normal psychological function.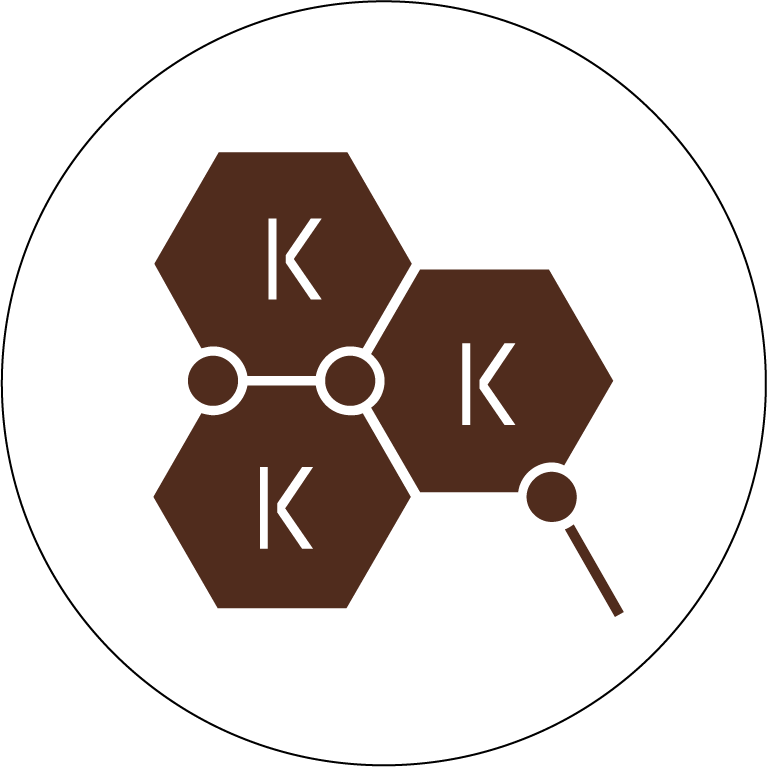 Maximum Bioavailability
There are several organic and inorganic magnesium salts. Inorganic ones are better absorbed. Magnesium citrate is an inorganic salt with good bioavailability. It increases brain and muscle magnesium concentrations 1,5 times more than free magnesium.
INGREDIENTS
All Ingredients
Water, acidifier (citric acid), magnesium citrate, banana flavoring, preservatives (sodium benzoate, potassium sorbate), acidifier (malic acid), pyridoxine hydrochloride (vitamin B6).
Magnesium
This mineral is essential for the regulation of neuronal, hormonal, and muscular functions. It is involved in energy metabolism, psychological function, maintenance of bones and teeth, and regulation of muscle contraction. It helps to reduce tiredness and fatigue. Magnesium citrate is better absorbed and increases concentrations in the brain and muscle, achieving the desired effects.
Vitamin B6
Vitamin B6 or pyridoxine is an essential water-soluble vitamin. It is involved in energy metabolism and protein synthesis. It also supports nervous system functions. It provides synergistic benefits with magnesium and melatonin, helping to reduce fatigue and regulate sleep.
ALLERGEN LIST
WARNINGS
Food supplements should not be used as a substitute for a varied and balanced diet and a healthy lifestyle. Do not exceed the stated recommended daily dose. Keep out of reach of young children. Store in a cool dry place.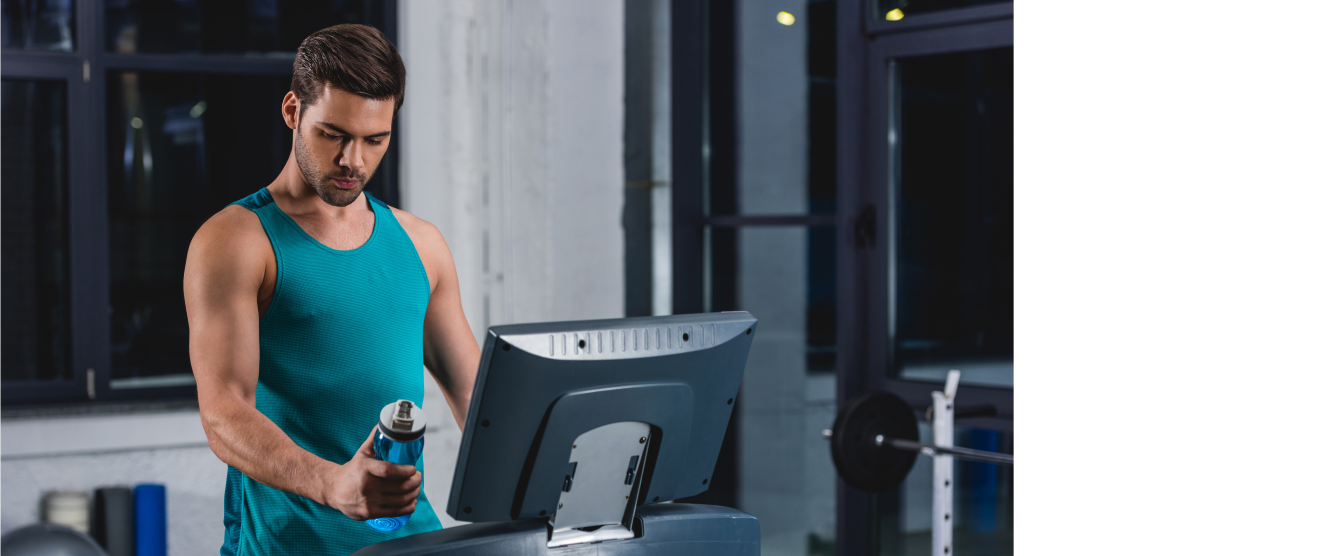 Avoid taking magnesium with soft drinks, caffeine, or alcohol, as these can reduce magnesium absorption.
Include magnesium-rich food in your diet, like nuts, legumes, whole grains, avocado, etc.
Keep moving.
Stretching is important.
Manage your stress.
Get enough sleep.
BEST QUALITY STANDARDS, VEGAN, ALLERGEN AND TOXIC FREE
FREQUENTLY ASKED QUESTIONS
How do I know if I need magnesium?
Magnesium deficiency is common in typical "Western" diets, which characterized by being low in fruits, vegetables, and wholegrains, and rich in processed food, refined sugars, and fats. Its deficiency usually manifests in tiredness, fatigue, constipation, menstrual disorders, and muscle cramps, among others. If you have an unbalanced diet and/or have any of these symptoms, we recommend magnesium supplement.
Why is Kobho's magnesium better than others?
Besides including one of the most bioavailable forms of magnesium, our formula also contains vitamin B6 to enhance magnesium effects. All this together with its administration in vials makes the bioavailability of bioactive compounds much higher, which translates into a higher amount of magnesium and vitamin B6 reaching the blood better than any other types of formulations.
Customer Reviews
11/14/2023
David M.

Spain
Muy bueno
Se nota en la recuperación después de entrenos, plus de energía y duermo mejor. Muy recomendable.
11/13/2023
Patricia G.

Spain
Brutal
Sabor rico, y te aporta la vitalidad necesaria estoy encantada
09/01/2023
Raquel V.

Spain
ACIERTO PLENO
Lo llevo tomando 35 días y noto sus efectos a nivel de energía, estoy muy contenta con todos los suplementos de Kobho , seguiré tomándolo por supuesto lo recomiendo
03/15/2023
Marilyn

Spain
Gratamente sorprendida!
He llegado a estos productos por recomendación de Ana(nitanhealthynitanfit) y si ella lo recomienda yo ya me fio directamente. El precio es muy bueno, el envío gratis y súper rápido y la mejoría en cuanto a calambres y cansancio fue inmediata. Más adelante actualizo comentarios con el tiempo, pero de entrada muy contenta con las compras.
02/07/2023
Paolo P.

Spain
My performance has been great at the gym
My physical condition has improved since I started taking kobho's magnesium. I am very happy with the recovery that I have had post exercise. Apart from that, the flavor is incredible.