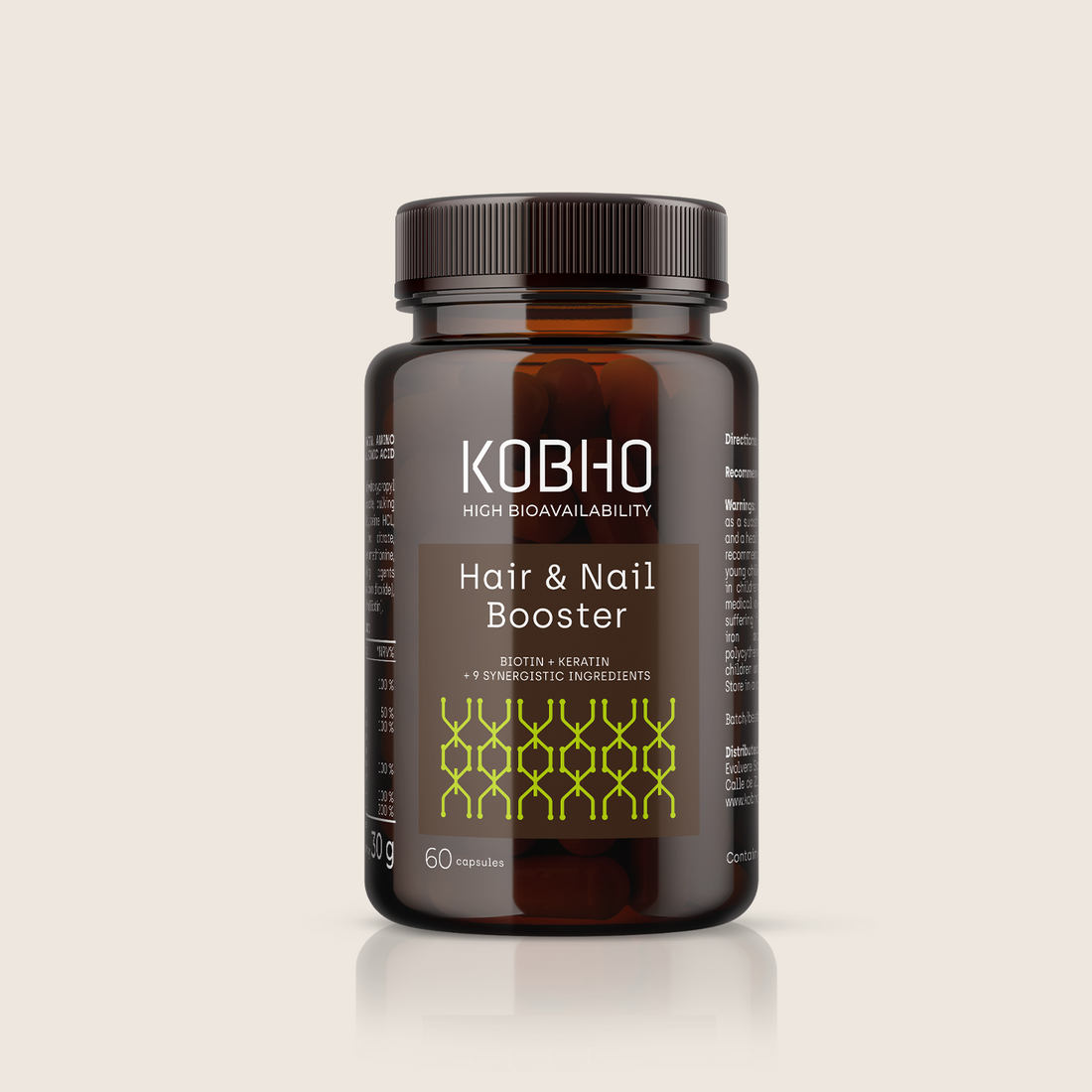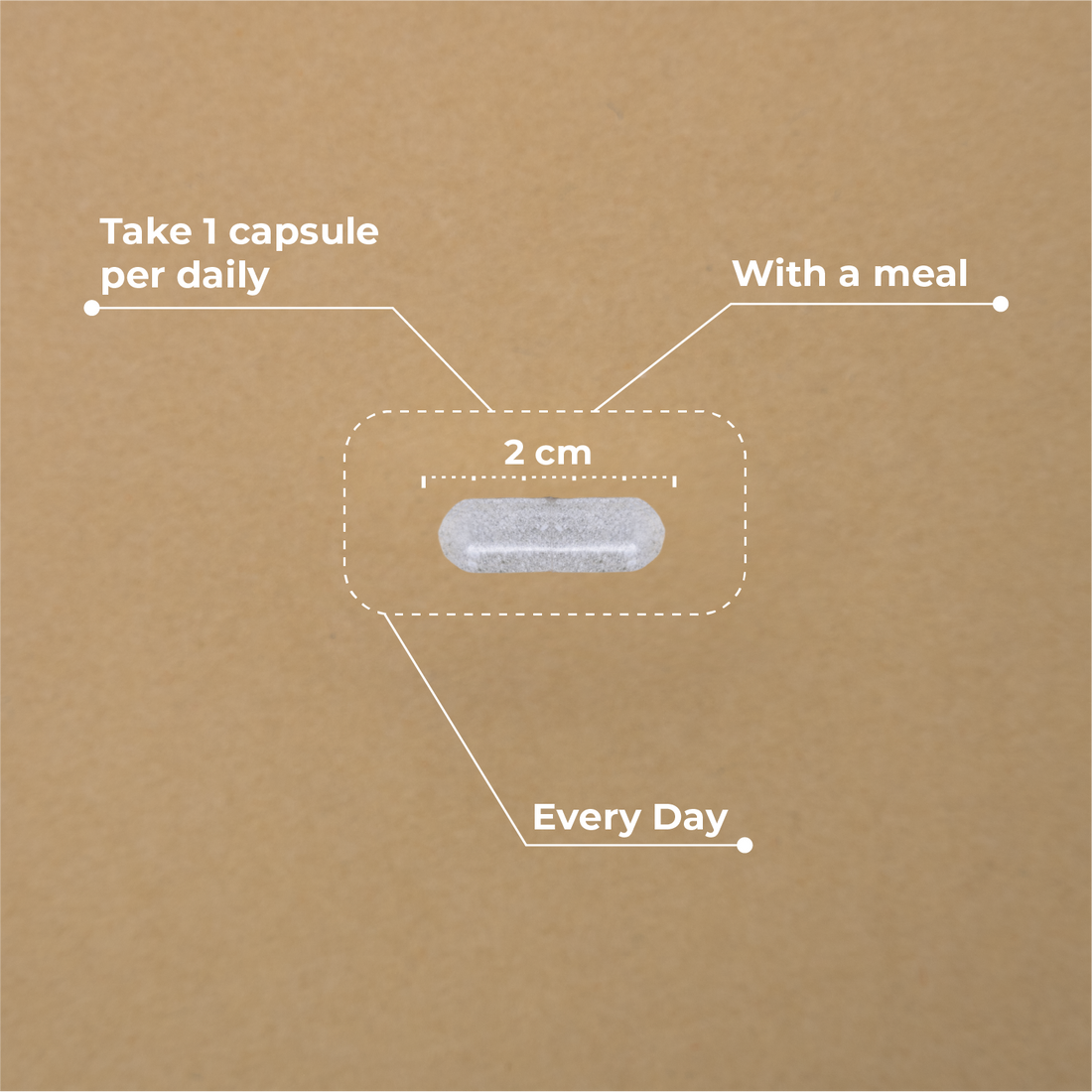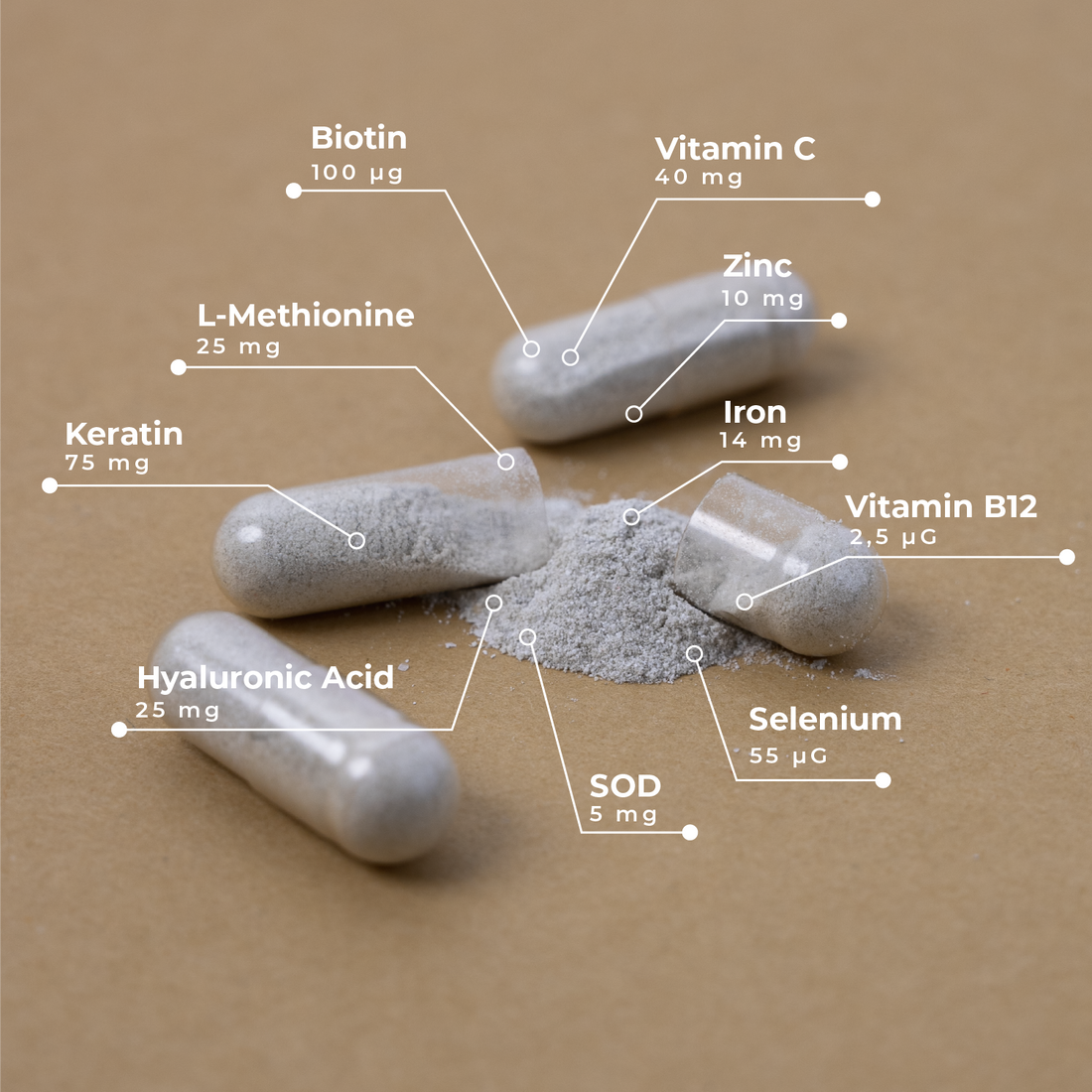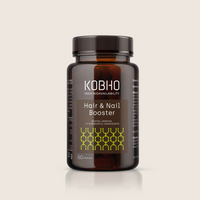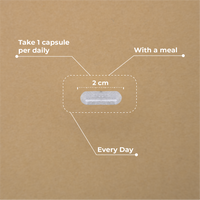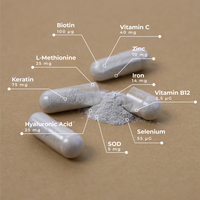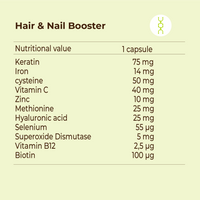 The perfect combination that helps you stop hair loss, and show strong and shiny hair and nails, and glowing skin. Hair & Nail Booster act from the inside for you to see it in the outside.
60 capsules (2-month supply)
1 capsule per day
At breakfast
Made in Spain
SELECT YOUR FAVORITE OPTION:
The perfect combination that helps you stop hair loss, and show strong and shiny hair and nails, and glowing skin. Hair & Nail Booster act from the inside for you to see it in the outside.
60 capsules (2-month supply)
1 capsule per day
At breakfast
Made in Spain
You might also like
Info
Ingredients
How to take it
Quality
FAQ
WHAT IS HAIR & NAIL BOOSTER, AND WHY DO YOU NEED IT?
What is it?
The combination of biotin, an essential vitamin, and keratin, a structural protein of hair, nails, and skin helps you combat hair loss, and skin and nail properties promoting the growth of strong, healthy, and shiny hair, strong nails, and luminous skin.

Where can I find them?
Biotin (vitamin B7 or H) is found in food (i.e., legumes, eggs, meat, seeds, nuts, mushrooms, potatoes). On the other hand, the human body produces keratin naturally in keratinocytes.

Why do I need it?
As we get older, the senescence of keratinocytes produces a reduction in keratin production, which is essential in the structure and maintenance of hair. In addition, biotin supplementation is recommended in periods of hair loss.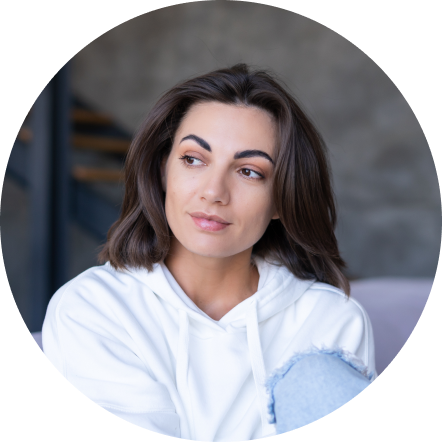 TO WHOM IS IT ADDRESSED?
Adults with the following characteristics:
Hair breakage and split ends
Hair loss
Brittle nails or frequently paint their nails
Smokers
BENEFITS OF HAIR & NAIL BOOSTER
ANTIOXIDANT & ANTI-AGING
Superoxide dismutase and vitamin C are potent antioxidants that protect hair follicles against oxidative stress.
IMMUNE SYSTEM
Deficiency in biotin levels is associated with risks and immune system problems, as it is necessary for the production of white blood cells.
HAIR, NAILS, & SKIN HEALTH
It provides essential vitamins and mineral for the production of keratin and collagen improving skin and nail health, and preventing hair loss.

Source: EFSA Panel on Dietetic Products, Nutrition and Allergies (NDA) (2009) "Scientific Opinion on the substantiation of health claims related to biotin and energy-yielding metabolism (ID 114, 117), macronutrient metabolism (ID 113, 114, 117), maintenance of skin and mucous membranes (ID 115), maintenance of hair (ID 118, 2876) an: Biotin related health claims," EFSA journal, 7(10), p. 1209.
The amount of biotin contained in our formula allows to achieve Nutritional Reference Value (NRV) contributing to the maintenance of hair, nails, and skin.

Furthermore, our unique formula also includes keratin, L-cysteine, hyaluronic acid, Ferrochel® Iron, and zinc among others to promote additional benefits, like antioxidants.
LEARN ABOUT THE BENEFITS OF HAIR & NAIL BOOSTER OVER TIME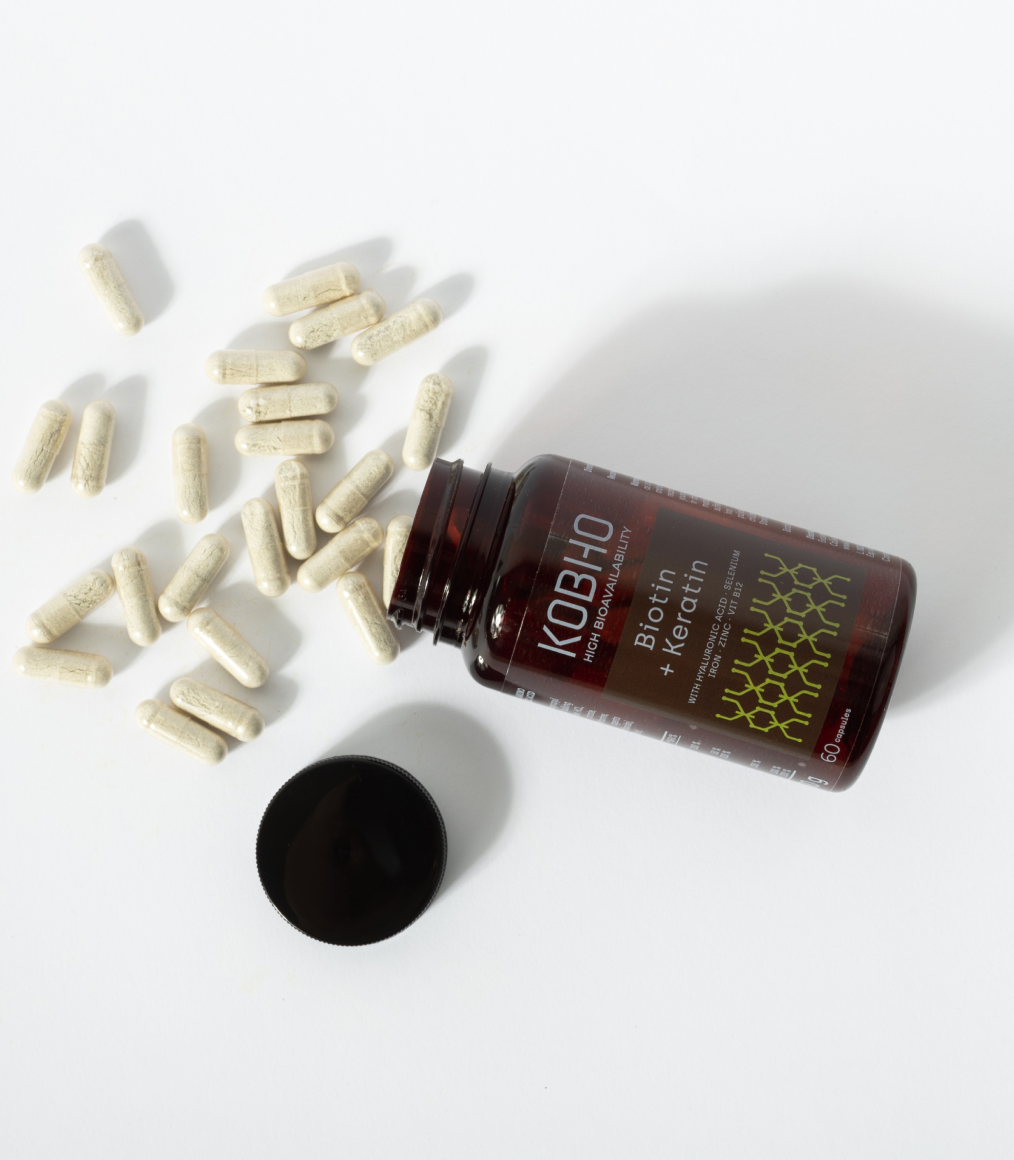 1 MONTH


Recovery of essential micronutients

The presence of vitamins (biotin, vitamin C, and B12) and minerals (iron, selenium and zinc) in our formula allows you to cover nutritional deficiencies. You can start to see improvements in the color and shine of your nails, but remember to be constant to notice all the effects.

3 MONTHS


It increases hair strength and skin glowing

The contribution of antioxidant compounds helps to protect the hair follicle from oxidative damage and allows hair to grow stronger. In addition, it improves hair appearance by improving hydration. Hyaluronic acid also improves the hydration of your skin and increases the glow.

6 MONTHS


Improvement in hair volume and nail strength

Thanks to the presence of keratin, amino acids, and other essential ingredients, Kobho Biotin + Keratin increase hair production, volume and strength, and decreases hair loss. Also, nails will be stronger.

1 YEAR


Guaranteed optimum maintenance

Not only it improves hair nails and skin health, but also it has immune system benefits, as biotin is necessary for the production of white blood cells.
PURE AND CONVENIENT IN ONE CAPSULE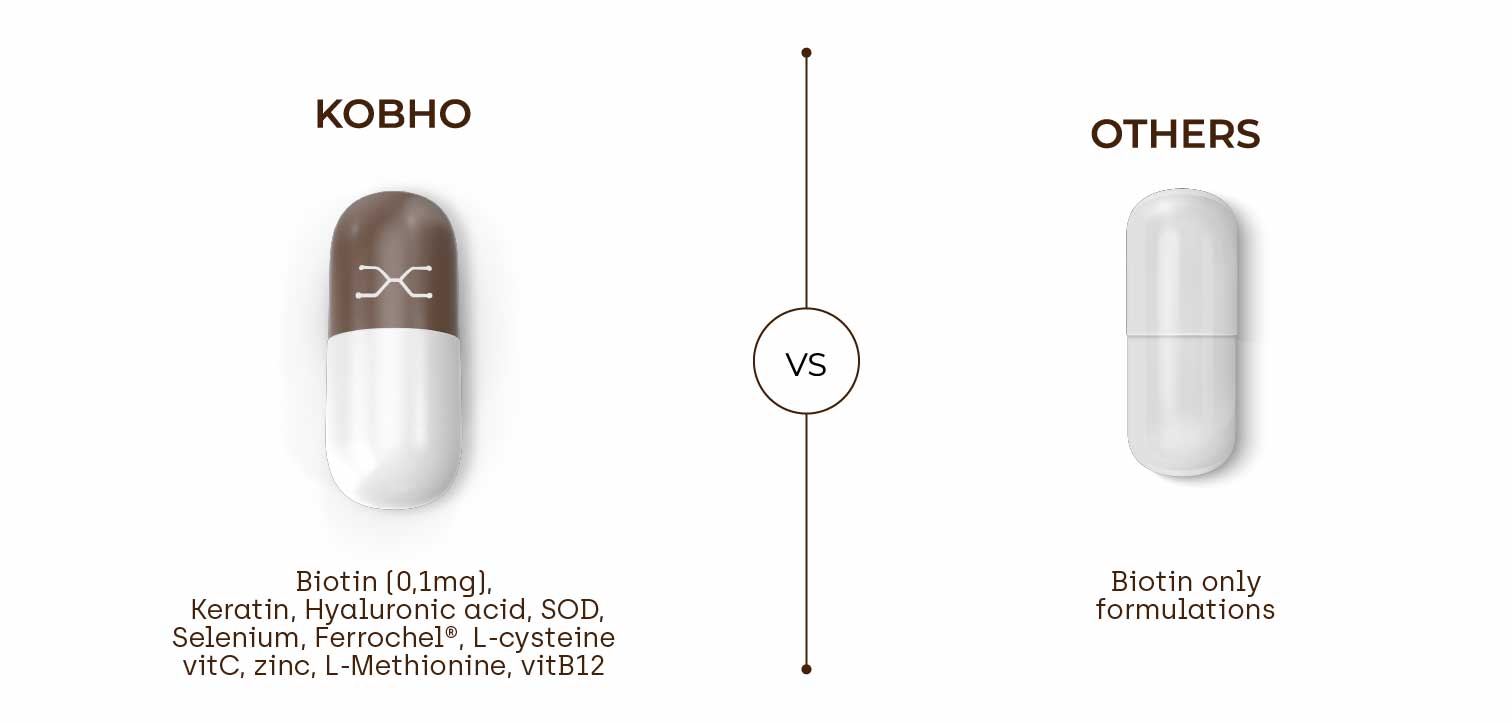 SCIENCE-BASED FORMULATIONS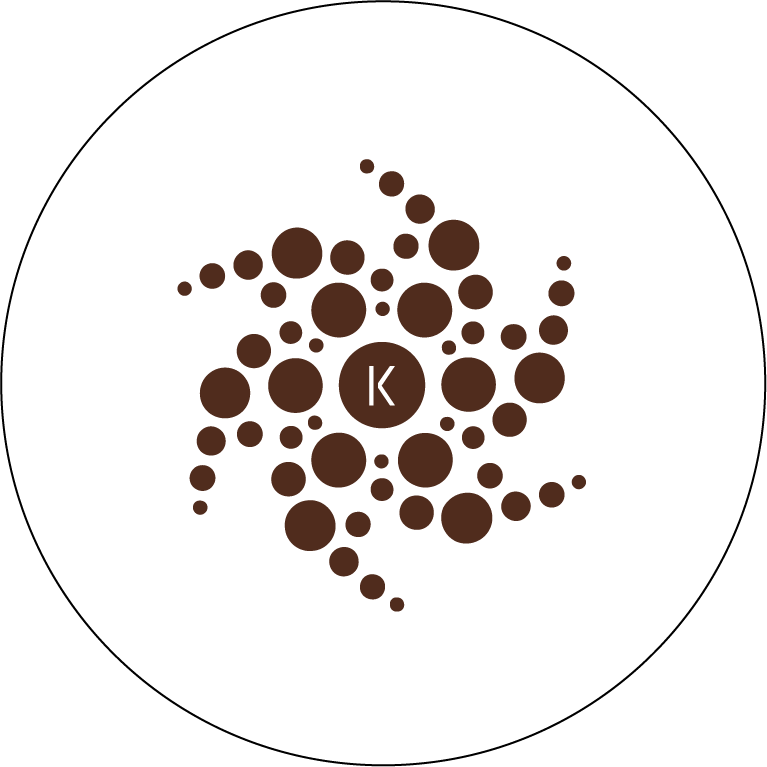 Synergistic effect
As keratin, the main structural protein of hair and nails is made up of amino acids, by providing keratin and its structural amino acids, we favor the synthesis for the formation of hair and nails. Co-administration of vitamin C and superoxide dismutase has a significant antioxidant effect, which provide benefits to skin and hair follicles.
INGREDIENTS
All Ingredients
Glazing agent (hydroxypropyl methylcellulose), keratin, iron bisalycinate, buking agent (microcrystalline cellulose), L-cysteine HCL, L-ascorbic acid (vitamin C), zine citrate, L-methionine, hyaluronic acid, L-selenomethionine, superoxide cismutase, anti-caking agents (magnesium salts of fatty acids and silicon dioxide), methylcobalamin (vitamin B12), D-Biotin (Biotin).
Biotin (Vitamin B7)
It is a water-soluble vitamin that we can find in foods, such as eggs, dairy products, nuts, etc. It is essential for the production of keratin and has an essential function in energy metabolism. Biottin contributes to the maintenance of normal hair, mucous membranes and skin and improves the firmness, hardness and thickness of brittle nails.
Keratin
It is a structural protein of hair, nails and skin that decreases as we age as a consequence of the inflammatory process. A lack of keratin can cause a weakening and loss of flexibility of hair, seeing it with less shine and split ends. In addition, nails can look more fragile, brittle and yellowish. It also provides flexibility and strength to the skin, helping to protect against external agents.
Hyaluronic Acid
It is a mucopolysaccharide present found as a major component of connective, epithelial, and neural tissues. It is essential in the maintenance of hydration of the skin, which contains at least half of the hyaluronic acid present in the body. Aging and external factors, like tobacco, pollution and UV radiation drop the amount of hyaluronic acid, thereby skin becomes dry. Hyaluronic acid supplementation helps to increase its synthesis from fibroblasts and improves skin moisture, reducing dryness and itching.
Superoxide Dismutase (SOD)
It is an enzyme that play a major role in antioxidant defense against oxidative stress, protecting hair follicles. Its deficiency is an important factor in hair loss and graying hair related to aging.
Selenium
It is an essential mineral whose deficiency is related to the lack of more than 35 proteins, many of them related to the maintenance of hair, skin and nails. Its intake, together with the rest of the complementary micronutrients, helps to restore the strength and shine of hair, skin and nails.
Iron (Ferrochel®)
Iron is an essential mineral, which contributes to normal energy metabolism and hemoglobin production. Iron deficiency may lead to fine, dull hair, increasing hair loss. In addition, nails may become brittle and the skin may look pale. Iron deficiency is more likely in women of reproductive age because of menstrual blood loss.
L-Cysteine
It is synthesized from L-Methionine. It is crucial in the production of collagen and keratin in hair, skin, and nails. It is the main amino acid involved in hair growth, where it is found in the largest amount (10-17%). The rate of growth, diameter and synthesis of proteins, such as collagen and keratin, depend on L-cysteine.
Vitamin C
It is a vitamin with important functions. On the one hand, it has anti-inflammatory benefits when combined with curcumin, since they act synergistically on the immune system and improve the endothelial function of blood vessels, which reduces cardiovascular risk. On the other hand, it complements and enhances the antioxidant activity and improves the function of other ingredients, such as alpha-lipoic acid or collagen.
Zinc
It is an essential element that contributes to the normal functioning of the immune system, stimulates white blood cells formation. It is also involved in the metabolism of carbohydrates and fatty acids, and DNA and proteins synthesis. Production of keratin, as aprotein, depends on the presence of zinc, so it is involve in hair growth, increasing hair volume and density.
L- Methionine
It is an essential amino acid. It is a precursor of L-cysteine, an amino acid, involved in the synthesis of hair keratin proteins, which conditions the formation of hair and nails.
Vitamin B12
Vitamin B12 or cobalamin, an essential vitamin, plays a crucial role in nerve function, cell metabolism, red blood cell formation and the production of DNA. It is involved in the maintenance healthy and strong nails, as well as healthy hair. Moreover, it has a basic function in skin pigmentation regulation.
ALLERGEN LIST
WARNINGS
Food supplements should not be used as a substitute for a varied and balanced diet and a healthy lifestyle. Do not exceed the stated recommended daily dose. Keep out of reach of young children. Do not use during pregnancy or in children, or for prolonged periods without medical advice. Not recommended for people suffering from diseases causing abnormal iron accumulation (haemochromatosis, polycythemia, etc.). Not recommended for children under 10 years of age and adolescents. Store in a cool dry place.
6 EASY TIPS TO PREVENT HAIR LOSS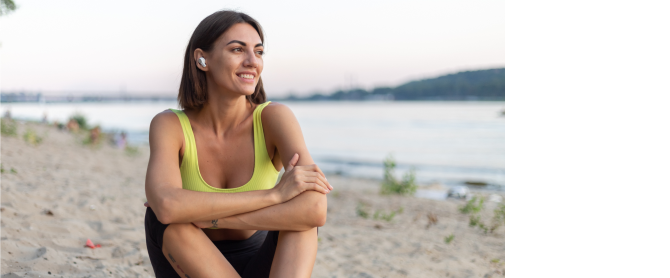 Follow a healthy balance diet, which includes fruits, vegetables, and protein.
Include biotin and zinc-rich food, like eggs, salmon, nuts, legumes, etc.
Use a mild and suited shampoo for your hair.
Use a soft brush made of natural fibers.
Avoid aggressive treatments, like heat tools, chemical hair dyes, and bleachings.
Take vitamins and mineral supplements.
BEST QUALITY STANDARDS, VEGAN, ALLERGEN AND TOXIC FREE
FREQUENTLY ASKED QUESTIONS
How do I know if I need to take hair supplements?
Hair loss is normal and can be associated to genetic, hormonal, stress, diseases, environmental, or aging factors. Some of the features you may notice are hair becoming brittle and hair fall increasing, nails are more fragile, and disorders may appear on the skin. If you are also a smoker, if you have been in a restrictive diet for a long time, or you are going through seasonal hair loss, we recommend that you start supplementation with our supplement.
Why Kobho's Hair & Nail Booster is better than others?
We have designed a formula to provide your body key and essential nutrients for hair growth and to prevent hair loss. In addition, our formula achieves an increase in strength for your nails and a better condition of your skin.
How long do I have to take it for?
We recommend you take it for a minimum of 6 months to see the best results, especially during seasonal hair loss, which often occurs during fall months and peaks in spring.
Customer Reviews
01/10/2023
marta

Spain
Fortalece mi pelo y uñas
Siempre he tenido problemas con mi pelo, ya que es demasiado fino y poco denso, además mis uñas se me rompen fácil. Hace poco un amigo me habló de Kobho y me he atrevido a probar este producto ya que que su formulación es super completa!
contenta!!
Envío llegó a tiempo y en perfectas condiciones, muy amables en el chat para las preguntas que les hice.
01/17/2023
Jaime P.

Spain
Efectivo y entrega rápida
Acabo de empezar a tomarlo y es pronto para opinar del producto, pero la entrega ha sido muy rápida
01/17/2023
Carmen

Spain
buena recomendación
Ma la recomendo mi dermatologa por la formula integral, mucho mejor q lo que puedes encontrar en otros sitios
Bueno para fortalecer uñas
Yo creo que aún es pronto, pero llevo como un mes tomando y me noto las uñas mas fuertes. Mi problema es que me hago la semipermanente y se me debilitan bastante. Espero seguir mejorando con la biotina.