Pack Biological Age + Nutrigenetic Test
Discover your biological age and how your genes respond to food and sport to adapt your nutrition and lifestyle habits to enhance your health. 
*Delivery date of Biological Age Test results: 10-20 working days from sample receipt.
*Delivery date of Nutrigenetic Test results: 3-6 weeks from sample receipt.
POWER YOUR HEALTH
Biological Age Test
Knowing the average telomere length of your chromosomes will let you know how your diet and lifestyle are affecting your aging.
Nutrigenetic Test
Know how your genes respond to food and sport to adapt your diet and physical activity to achieve greater well-being.
Why both tests?
They will allow you to know yourself exhaustively in order to optimize your diet and lifestyle according to your genetics.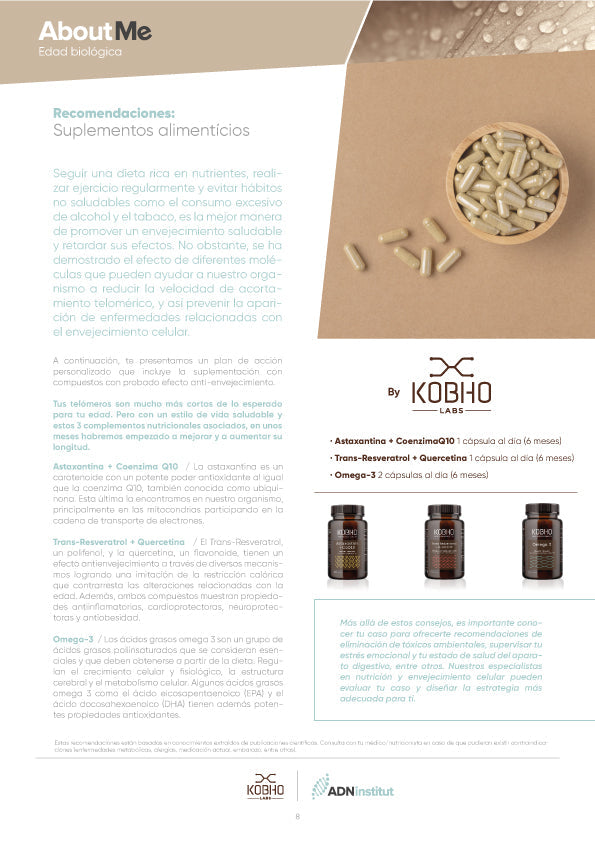 A SINGLE TEST: all reports at your fingertips
With a single sample it is possible to generate more reports. In this way, you can have all your genetic information at once with a single shipment.
WHAT NUTRIENTS AND PARAMETERS DO WE ANALYZE?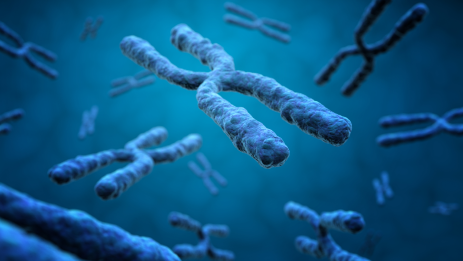 Biological Age




Vitamin and Mineral Deficiencies




Vitamin B6
Vitamin B9
Vitamin B9
Vitamin B12
Vitamin C
Calcium
Iron

Food Intolerances




Gluten
Lactose
Fructose
DAO
Peanuts

Response To Diet




Response to saturated fat
Response to monounsaturated fat
Response to low fat
Omega-6 and Omega-3
Mediterranean Diet

Dietary Habits




Overeating
Binge eating
Sweet taste
Bitter taste
Caffeine
Alcohol

Risk and Tendency to Pathologies




Diabetes
Hypertension
Tendency to overweight
Familial hypercholesterolemia
Crohn's disease
Cholesterol levels: HDL and LDL
Triglycerides

Sports Characteristics




Endurance
Power
Risk of injury
HOW DOES IT WORK?

RIGOR, QUALITY AND TECHNOLOGY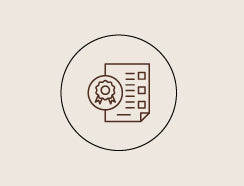 Rigor
Our panel of experts selects and reviews a biomarker and variants with solid scientific evidence according to scientific literature and medical guidelines.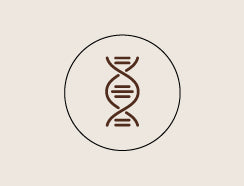 Quality Assurance
The laboratory where samples are processed and analyzed is ISO 15189 and 9001 certified.
Best technology
We use the best and most accurate methodologies, platforms and software on the market in the field of genetics.
FREQUENTLY ASKED QUESTIONS
When will I receive my report?
If you are ordering a test for the first time, the delivery time of the report with the results is between 3 and 6 weeks from the reception of your sample in our laboratory.
Can this test diagnose intolerances or diseases related to nutrition?
This genetic test allows us to know your genetic predisposition to develop a series of health problems related to nutrition. In other words, it is a preventive medicine test that allows us to know your risk to certain conditions, in order to recommend guidelines or lifestyle changes to avoid the development of these conditions in the future. Once the risk has been identified, and in case you suspect you have already developed the disease, you should undergo clinical tests to confirm or rule out this health problem, always under the guidance of a health professional.
Does the report include a nutritional menu?
The elaboration of a nutritional menu should not be done simply taking into account genetic findings, but should also take into account other factors such as diseases, daily habits, objectives, etc. For this, it is important to visit an expert in nutrition, who will evaluate your case, put all these factors together and elaborate a menu tailored to your needs.
Who will have access to my genetic data?
Only you, ADN Institut and us. In addition, our laboratories are located within the Spanish territory, so in no case neither your sample nor your data will travel outside Spain.
How often should I repeat it?
We advise you to perform a new telomere length study in one year to detect possible improvements in the aging rate of your cells. However, if you are following specific treatments to reverse the speed of aging, we advise you to perform the next study in 6 months.